Vehicle "MOBIL" WORLD CONGRESS
Barcelona 11/14 02 2008
Comité de recepción / Reception committee / Comité d'accueil

Empfangsausschuß / Comitato di Ricezione / Comité van Ontvangst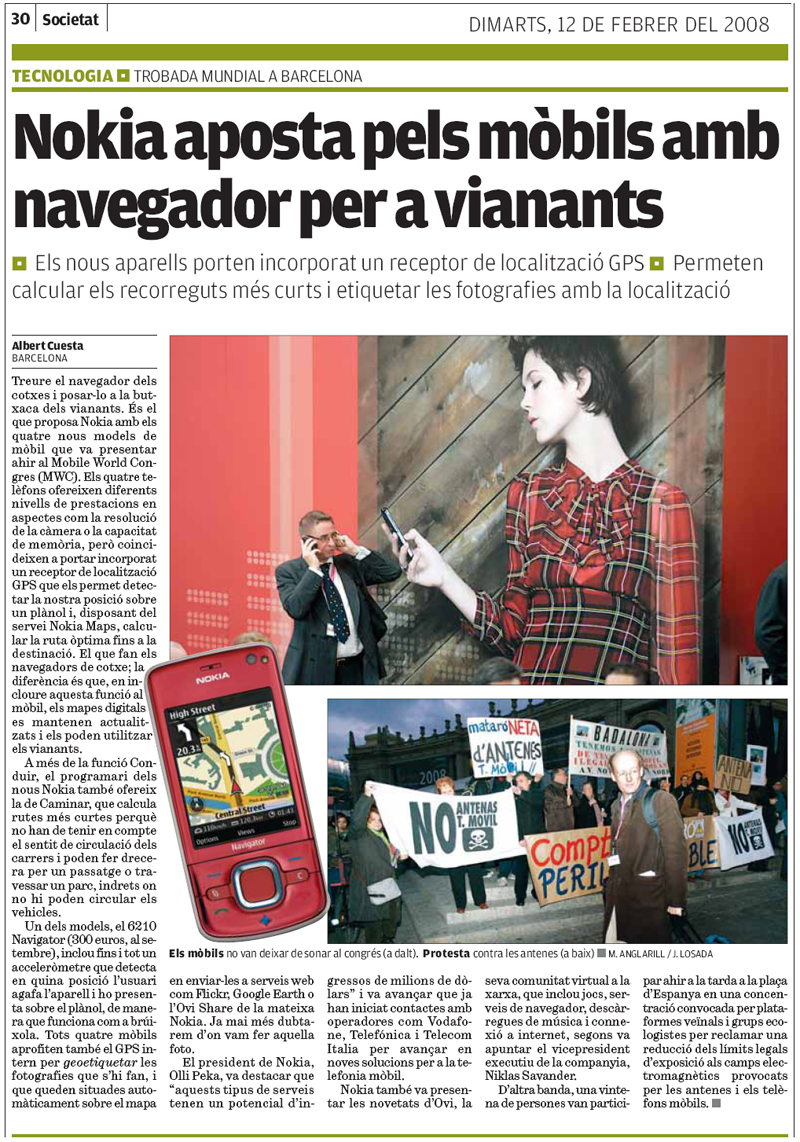 Protestations contre les antennes relais au
Congrès Mondial de la Téléphonie Mobile.
Protesta veïnal a la fira
de mòbils contra les antenes

It was an event and a clash :
For the first time, most of the 50 000 participating at the World Phone Great Mass discover that the population is opposed to relay antennas !
As a bad new never comes alone, the participants received the data corroboration,
3GSM does not rises, only 3 % of the users are using the multimedia services,
and worse, the plan to forbid the mobile phone in the city streets is actual !


Fue el acontecimiento y un choque :
Por primera vez la mayoría de los 50.000 participantes del Gran Imperio de la telefonía mundial
descubrían que la población estaba en contra de las antenas base de telefonía móvil.
Como una mala noticia no viene nunca sola, los participantes tuvieron confirmación de las cifras,
el 3G no despega, sólo un 3% de los usuarios consumen los serviciosmultimedia,
¡peor, el proyecto de prohibir el teléfono móvil en las calles de las ciudades está de actualidad!

Ce fût l'événement et un choc :
Pour la première fois la plupart des 50 000 participants de la Grand Mess de la téléphonie mondiale
découvraient qu'une partie de la population était contre les antennes relais !.
Comme une mauvaise nouvelle ne vient jamais seule,
les participants ont eu confirmation des chiffres,
la 3G ne décolle pas, seul 3% des utilisateurs de portables consomment les services multimédias,
pire, le projet d'interdire le téléphone mobile dans les rues des villes est d'actualité !

Questo fu il fatto e un colpo :
Per la prima volta la maggior parte dei 50.000 partecipanti alla Grande Mensa della telefonia mondiale hanno scoperto che la popolazione era contro le antenne.!
Come una cattiva notizia non viene mai sola,
i partecipanti hanno avuto conferma dalle cifre, la 3G non decolla,
solo 3% di utilizzatori consumano i servizi multimediali, peggio,
il progetto d'interdire il telefono mobile nelle strade delle città è di attualità!



De shock : Voor de eerste maal ontdekt de meerderheid
van de 50000 deelnemers aan het wereldcongres dat de bevolking tegen de zendantennes is.
Zoals een slecht nieuws nooit alleen komt hebben de deelnemers de bevestiging gekregen
dat de 3G niet van de grond komt en slechts 3 % van de bevolking gebruik zal maken
van deze nieuwe aangeboden multimedia technologie en dit ondanks het project
om de mobiele telefoon te verbieden in de straten van de steden actueel is.
Es war ein Ereigniss und ein Schock.
Zum ersten mal entdeckten die 50 000 Besucher dieser grossen internationalen Telephoniemesse,
dass die Bevölkerung gegen die Antennenrelais ist.!
Und da eine schlechte Neuigkeit meistens nicht alleine kommt,
mussten die Besucher der Messe feststellen, dass die Umsätze schlecht sind.
Die 3 G kommt nicht bei den Verbrauchern an, nur 3% benutzen den Service Multimedia.
Es kommt noch schlechter, es gibt ein Projekt welches telephonieren auf der Strasse verbieten soll.


Un impressionnant comité d'accueil attendait les participants au 3GSM World Congress Barcelona 2007.

Ein eindrucksvolles Empfangskomitee erwartete die Besucher des 3 GSM World Congress Barcelona 2007.


An impressive reception comity was waiting for the 3GSM participants oft he Barcelona World Congress 2007.


Un impresionante comité de recepción esperaba a los participantes al 3GSM Congreso Mundial Barcelona 2007.


Een indrukwekkend ontvangstcomité wachtte de deelnemers van het 3GSM World Congress Barcelona 2007 op.

Un impressionante comitato d'accoglienza attendeva i partecipanti al 3GSM Congresso Mondiale di Barcellona 2007.