1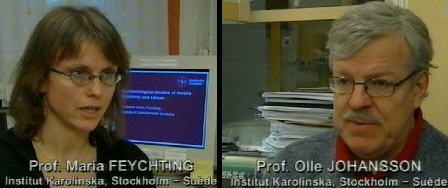 2




Les "4 vérités" de Next-up organisation au
Pr Maria Feychting
Institut Karolinska de Stockholm.

In progress

-

Le téléphone mobile peut donner une tumeur cérébrale.
-

Mobile phones can cause brain tumours

.
- Cell Phone-Tumor Link Found?
.
The risk of developing a tumor was almost double for those
who started to use phones before their diagnosis.
In addition, the tumor risk was almost four times higher on the side of the
head where the phone was held, Ahlbom and Feychting said...The study
was funded by the European Union and is part of the wider Interphone study coordinated by the International Agency for Research on Cancer.


.




The wireless industry has always maintained
there is no link between mobile phones and cancer.
| | | |
| --- | --- | --- |
| | - Mobilen kan ge hjärntumör. | |
Aller à l'essentiel
dans un débat "bien huilé" qui devient de plus en plus "inaudible"
c'est agir pour faire changer les réglementations opposables.
Pour avancer une nouvelle stratégie d'actions ciblées est absolument nécessaire,
nous devons notamment ester en Justice.
Next-up organisation à besoin d'aides pour financer les procédures :
Appel de fonds,
Merci d'aider Next-up organisation dans son combat de salubrité publique
(cliquer).

Signer la pétition pour soutenir les résolutions du consortium scientifique
BioInitiative
sensibilise les Autorités et permettra à plus ou moins long terme de faire
baisser votre exposition aux rayonnements électromagnétiques.
Avec cette action, vous protégerez aussi vos enfants et votre entourage.